Whiteshield
Posts: 374
Joined: Wed Jan 13, 2010 4:45 am
http://www.blacklibrary.com/games-works ... asion.html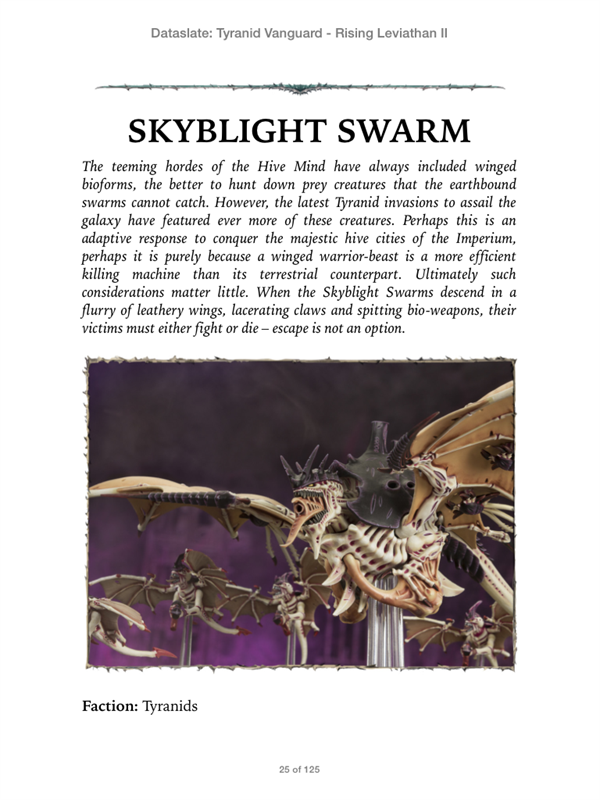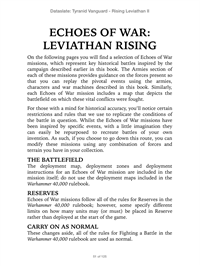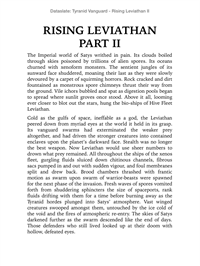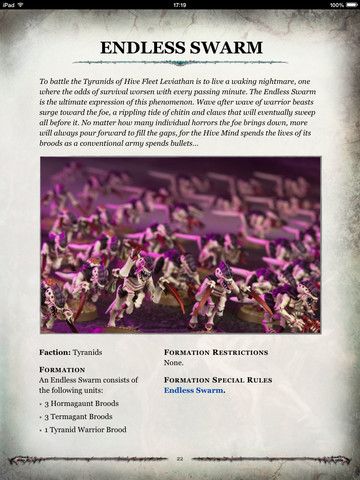 Endless Swarm..... now why does that sound familiar?? It's like I'm remembering it from a past life or something.
.
.
.
Those are my principles, and if you don't like them... well, I have others.

---
Whiteshield
Posts: 374
Joined: Wed Jan 13, 2010 4:45 am
so second one is out..... here's the quick hits:

Incubator Node
1 Tervigon
3 Termagant broods (not specified size)

This Tervigon only rerolls 1's when spawning.
--------------

Synaptic Swarm
1 Tyranid Prime
3 Tyranid Warrior Broods

All models have 18" range Synapse
----------------

Skyblight Swarm
1 Flyng Hive Tyrant
1 Crone
2 Harpies
3 Gargoyle broods

All Gargoyles in this formation control objective markers even if the enemy scoring unit is in range to count as controlling objective markers (unless they also have this ability).
AND
Each Gargoyle brood in this formation have Endless Swarm on 4+; they com back with both rules for the formation.
------------------------

Living Artillery Node
1 Exocrine
3 Biovore broods
1 Warrior brood
All of these models' ranged weapons have Pinning
AND
Any models in this formation within 12" of the Warrior Brood can reroll scatter dice for blast and barrage weapons.
-----------------------

Endless Swarm
3 Hormagaunt broods
2 Termagant broods
1 Warrior brood

Hormagaunts and Termagants from this formation both have endless swarm on 4+.
-------------------



Skyblight is completely broken!
Not only the rules, but a potential 3rd flying Hive Tyrant? or 4th Crone? or 4th and 5th Harpy?

This is a potential 9 Flying Monstrous Creatures list (3 tyrants, 1 Crone, 2 Harpy's, 3 of whatever combination in the regular Fast Attack slots) in under 1800 points.

..... and Objective Stealing Without Number Gargoyles!

You want air superiority.... man do Tyranids have it, now!
.
.
.
Those are my principles, and if you don't like them... well, I have others.

---