Custom Runesmith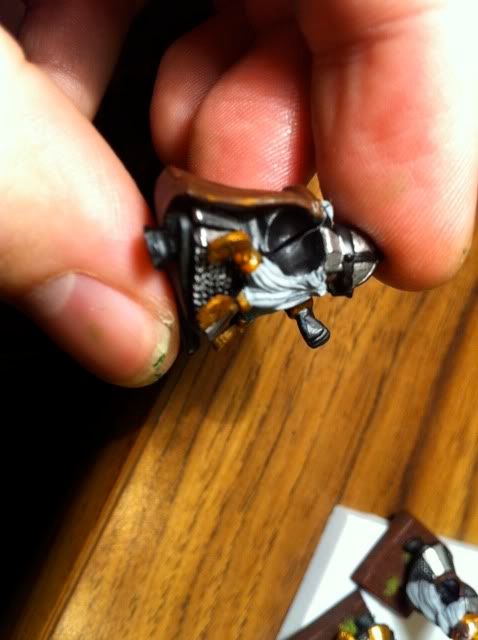 Here is is, side-aways. Took this shot before I put skin colors on him, but they're on him. I'm a fan of the fist he's holding before him, menacingly. (Dramatic shot pending.)
All runesmiths I've seen seem to have staves...which are maybe Great Weapons? Well, here is his staff/great weapon. The biggest hammer in my army; it's basically a lucerne hammer with a Big Business End.
Carving up bits to form a sort of mantle hanging on his back; I have a third piece that need a bit more whittling but will look near-identical to the left piece here, making it symmetrical (or roughly so). Hard to see here because it's got a rough base coat in brown which is very near the cloak colors) but it'll be all gold and shiny.
Longbeards
I was going for the whole "We're rangers" thing, even if they are never taken as rangers in an army list (though I may, it seems like it might actually work now that they can hope to charge something in the new rules) so they are in dark forest green with a lot of browns, both light and dark, for belts, barding, and cloaks. I'm sad to say I didn't shoot a shot of the cloaks except for the champion (who has a space wolf colored cloak <3 ).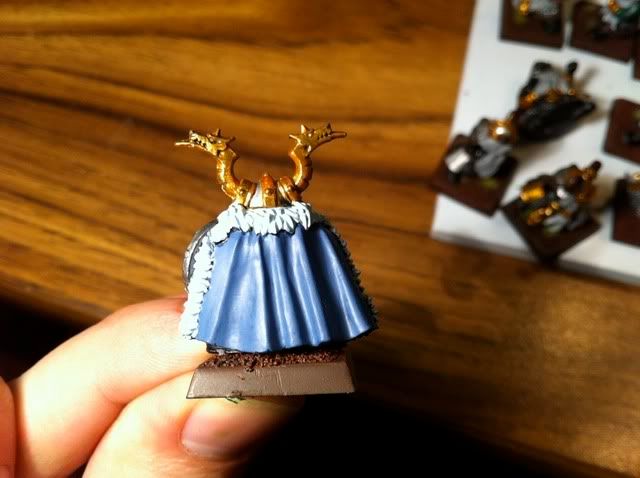 The unit champion (actually the thane model from BfSP) for my longbeards.
Standard bearer.
The unit at a glance.
Once the detail work is done I'll take some clearer shots. =) OMG I'M PAINTING AGAIN.