THE LIST (updated for 8th ed):
A block of 30 warriors w/ GW, full command - 9 out of 30, Champion done.
A block of 20 warriors w/ HW/Shield, full command - 10 done, standard and musician
A block of 30 longbeards w/ GW, full command - 20 on deck, detail work pending
A block of 20 hammerers w/ full command
Teams of ten thunderers
Two cannons
Two organ guns (if possible these will be convertible to cannons via magnets)
A gyrocopter
Dwarf Lord (my general)
Battle Standard Bearer
Demon Slayer (my "bad idea")
Runesmith (out of spare parts)
THE STORY:
I started the hobby in June with the primary motivator being to play the game. Deciding between 40k and Fantasy at the time was easy...I was indifferent and Jer - the only friend who seemed interested in also buying into the game - vastly preferred 40k. It also helped that I played a tremendous amount of Dawn of War and had a thing for the back story of the Space Marines.
Jer had been painting miniatures for ages - mostly for our DnD gaming groups: it was something he very much enjoyed. He was very eager to paint my models for me, something I wasn't opposed to as I'd never done it before and presumed I had no skill. So I bought the Assault on Black Reach set and he set off to painting...he painted the Captain, a marine, and a single ork...and he HATED painting the ork. He was quiet about it at first, finishing my AoBR marines. I thought asking him to paint thrice as many orks was pushing the luck of this essentially free commission, so I told him I'd paint the orks if he'd show me how. (I figured what did I care, I never planned to play the orks. Sorry, Dez.)
It took me approximately five minutes of painting to realize I was hypnotically entertained by it. I painstakingly and eagerly painted all of the orks (except the Warboss, which Jer was excited to paint). After finishing, I found myself buying a box of marines to paint myself: after painting all of this rippling muscles and scars on the orks, the marines were a cinch (especially since I chose black as the base color: spray paint was a win there). Since then, except for the occasional surprise from Master Jer, I've been painting my own marines.
Still, the marines aren't all my work and are pretty simple...I really wanted an army I could entirely call my own. I considered two other 40k armies. First the Orks (since I already had them), which I gave up on because I just didn't like the way they felt when I played them. Then the Grey Knights, which were fun, but way too expensive to get into (as they are all metal and require more land raiders). Then I found myself looking at the fantasy armies people were playing and poking in the books...and I found myself looking at four more armies which all looked awesome: Ogres, Vampire Counts, and High Elves. The latter I ruled out early as I didn't feel I had the skill to paint them, and so I looked through the rule books of the former two. Then I found myself reading through all of the rulebooks for the Fantasy armies, and found a favorite.
It happened when I read the "Old Grumbler's Rule" and laughed my ass off at the sincere stoic resignation that the Longbeards had in reference to Dwarf Warriors failing a morale check...a stinging resignation which gives neighboring units a reroll on their morale. A later chat with Kinne and the fact there was a starter set with a small rule book for Fantasy in it and my decision was made. Dwarves it would be.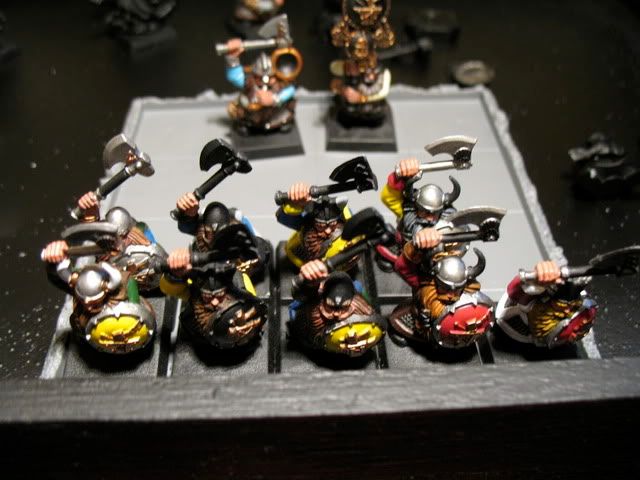 Here you can see my first nine warriors,
mostly
painted now, some still needing metalwork on their axes and helms, but faces and beards complete. For warriors I found myself thinking that these guys are from different families and guilds, there's no reason for them to have a uniform...so I made them all individuals. A tremendous time sink, but it still feels worth it to look at them. It's so time consuming that I will be uniforming other units I make...except for future blocks of warriors. I also put subtle differences colorwise into almost every beard, mixing, blending, and washing different combinations of browns, off-whites, and in some cases a little red or yellow. While the I will uniform later dwarves, I will still stick to the alternations in beard colors...as I feel I need to differentiate between each dwarf some how.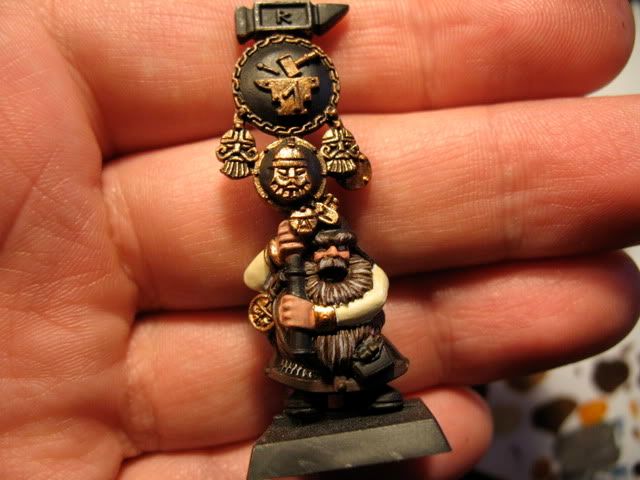 My first standard bearer; I felt like for this dwarf to have the honor of carrying this unit's standard, he's been with the unit for a while, perhaps was it's champion at one point. This isn't typical of standard bearers, certainly...but it is this guy's story. Also, I enjoyed putting the little grey streaks through his brown beard.
Here I've started the final nine members of the unit (nine warriors from BfSP + nine warriors from Battalion box + musician + standard bearer from BfSP = 20). Beards are about midway done (not in this picture), chainmail is done along with leather straps/belts, and the faces are begun.
The nine from BfSP came with hand weapons and shields, so I'm equipping the second chunk of nine with great weapons...setting all of the hammers aside for a unit of hammerers, and anything particularly cool for a unit of longbeards.
The unit veteran/champion i decided will be a younger dwarf that happens to be a BAMF. He'll be the only member of the unit with a cape, and will get purple with gold trim for his cloak...I think. I've gotta stare at him some more.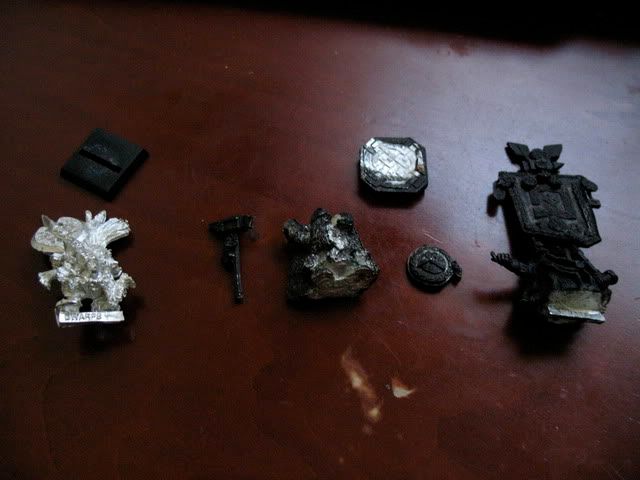 For the future are three pieces out of a heap of stuff I got at the 131 auction for like $15...from left to right a Dragon Slayer, Lord with Oathstone, and Battle Standard Bearer. All three look like a LOT of fun to paint, but I'll be doing them dead last as I want to make sure I am in a dwarf painting groove for them.
Alright. Hopefully opening myself up to this kind of scrutiny will get me motivated. Back to painting.