I can't get Mat Gaspari's Forum account to work so I'm posting his image for him.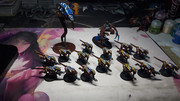 ---
Whiteshield
Posts: 352
Joined: Fri Feb 07, 2014 6:21 pm
Location: West Springfield Mass
I only painted a Cygnar Hunter for November's Iron Painter.

Sauce for the goose Mr. Saavik. The odds will be even.

He shall rule them with a rod of Iron.
- Revelations 11:25
---
I finished this guy a week ago...just haven't been online to post it. Cheers!
---
Recruit
Posts: 35
Joined: Mon Oct 21, 2013 11:35 am
Location: Chicopee, MA
I finished these dudes for my Chaos Pact Blood Bowl team.
"Even at his most powerless, man's existence is never without meaning."
---
Here's what I did this month.
7 150mm models and a 170mm model.
Bring me your Universes ultimate cup of coffee...! BLACK... You have five.. Earth.. Minutes. Make it perfect!
---
Completions for November
Attachments
"It is the way of Fenris. We stay as long as we can. We fight as hard as we can. Kill as much as we can. Only when we can do no more, do we move on."
---
Got Lord Carver and 2 Sherman's done

---