Recruit
Posts:42
Joined:Wed Mar 23, 2016 8:23 pm
---
I was able to finish up an Inquisitor Greyfax for this month, my first month back painting! Hoping for plenty more next month.
---
Here is what I got done this month!
Bring me your Universes ultimate cup of coffee...! BLACK... You have five.. Earth.. Minutes. Make it perfect!
---
Couple guys done, 5 Guild Ballers and my Warcaster for Menoth
---
The Necrons are coming!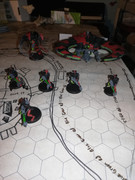 ---
I was all over the place this month, putting a little paint on a ton of models. However, I got one Sherman Firefly VC

I'm not super happy with the freehand stars, but they aren't terrible. I'll probably fuss with them when the army is done, you know, 40 years from now.
---
Indictor done! Was done a week ago, but only got around to photographing it now.
---